Om mojomusic.se
Visa alla inlägg av mojomusic.se
The first concert this the fall at Bluesbaren, Stockholm, was a pleasant evening with a lovely audience who filled the room. Both Mona and Christer presented new original songs as well as old classics in the expressive and rhythmic way that has became their signature. Tonight they were also backed up with both energy and rhythm by Lamine Touré on calebas and calimba. An exciting collaboration and evening that also included a guest performance by Allen Finney!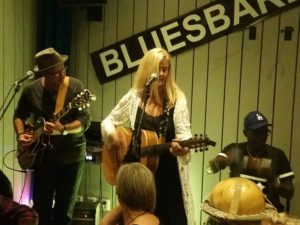 Mona and Christer Lyssarides have booked 4 new events at the cosy club Bluesbaren, Hornsgatan 55, Södermalm, Stockholm.
6 September,  7-10 pm.
4 October, 7-10 pm
1 November, 7-10 pm
22 November, 7-10 pm
A warm welcome!
Two portraits of Mona Johansson and Christer Lyssarides was made by a man in the audience, Jan Cederlöf, during their concert at Blues i Hängmattan, Musikens hus, Göteborg, June 13. Organizer of the event was Hannah Tolf and Göteborgs Bluesförening. It was a great evening with a lovely audience. A big thank you to all involved! Videos from the evening will be published on Youtube.
The Sunday performance of Blues och Poesi was made for a full house at Kvarnbo kvarn, Uppsala, in 30 degrees heat but it was a lovely moment. A big thank you to Gudrun Westerlund and Kvarnbo kvarns intresseförening!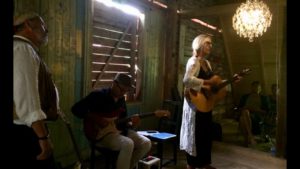 On Wednesday June 13, Mona Johansson and Christer Lyssarides, have a concert at Blues i Hängmattan, Musikens hus, in Gothenburg. The concert starts at 19:30 and ends at 21:30.
Before that, on Sunday June 10, you can see Mona and Christer together with Bobo Eriksson at Kvarnbo Kvarn, Uppsala, with their act Blues och Poesi.
Den 10 juli kommer Blues och Poesi, "Att söka sin lycka", till Kvarnbo kvarn i Uppsala. Arrangeras av stödförening för Kvarnbo kvarn som håller Öppet hus mellan 12 – 17 där vi har den sista timmen, kl 16.
Varmt välkomna!
För mer detaljer se fb-event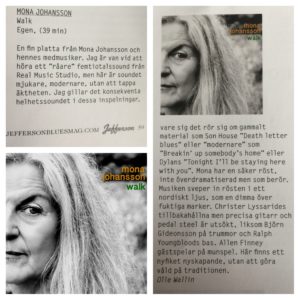 Mona Johansson's album Walk got a really nice review in the paper release of Jefferson Blues Magazine (March 2018). We appreciate it a lot!
Google translation into English: A nice album from Mona Johansson and her fellow musicians. I'm used to hearing a "raw" fifties sound from Real Music Studio, but here the sound is softer, more modern, without losing authenticity. I like the consistent overall sound of these recordings, whether it's old material like Son House "Death Letter Blues" or "modern" like "Breakin 'up somebody's home" or Dylan's "Tonight I'll be staying here with you" . Mona has a sure voice, not overdramatized but touching. The music sweeps the voice into a Nordic light, like a fog over damp fields. Christer Lyssarides cautious but precise guitar and pedal steel are exquisite, like Björn Gideonsson's drums and Ralph Youngblood's bass. Allen Finney guest plays on harmonica. Here is a curious innovation, without violating tradition. Olle Wallin
The 22 March it's again time for a Mona with friends at Bluesbaren. After a long stay in India Mona is back at Bluesbaren with some new songs. This time she will be accompanied by Christer Lyssarides, guitars, and Robert Ivanson, bass. Don't miss the this!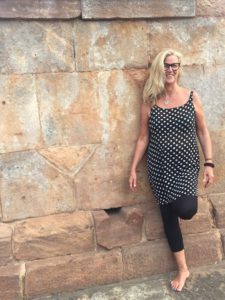 Photo by Astrid Haugen
Soon 2017 will end and when looking back it has been a good year. The album Walk was finally released in December and have got some nice reviews. The show "Mona with friends" has also been a fun experience where new musical collaborations has been established. Thank you all, both musicians and audience, for your support!
But best of all, my first grandchild, Bojan, was born in August!
Now it's time to look forward and plan the new year 2018. I will start in India where I will enjoy the warmth and my good friends, relax, reflect, plan the year, do some concerts and hopefully write some new music. I'll be back in March but meanwhile check for updates here or on Facebook!
I wish you all av Merry Christmas and a Happy New Year!
Love Mona
Today, Tuesday 12 Dec, the song "Help me through the day" from the album Walk is played at Radio Holstebro, Denmark.
Tomorrow, Wednesday, two songs, "32 20 Blues" and "Breakin' Up Somebody's Home" will be played by Leen Velthuis in Radio program "Another Blues is Knocking", Netherlands, at http://www.universeradio.nl/.
Tune in an enjoy the music!
Monas nya album Walk är nu tillgängligt på digitala kanaler såsom Spotify, iTunes, Tidal, Youtube m fl. Passa på att lyssna här hur det kan låta!