Singer, song writer, guitarist, harmonica player
Allen Finney is an American (Michigan) born, multitalented musician, based in Sweden. Steeped in the roots traditions of American folk, rock, country, blues, and jazz, Allen Finney emerges with unique expressions in his own musical style.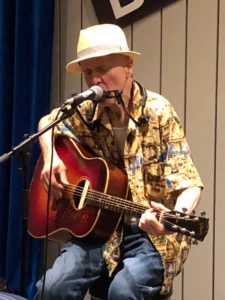 In the early 80s Allen Finney did solo, warm up act for J.J. Cale at the Olympia, Dire Straits at the old Roman Theatre in Orange, France, Canned Heat in Biarritz, Ritchie Blackmore's Rainbow, Weather Report and others. He also had a song, in French, on the Top 40, "Les Champs de Beton."
Allen Finney has a huge song book and has during his years in Sweden released a number of albums. He has also been co-writing with his friend, the great blues and soul man, Sven Zetterberg, who sadly passed away 2016. The song "Pink Sunrise, Palm Trees and Golden Sand" which is one of the songs on Allen's new album can also be found in a version from 2003 on Sven Zetterberg's album "Let Me Get Over It".
Allen Finney has been an inspiration for young Swedish musicians such as Gunnar Muwemba Lidström, Erik Hansson, Lisa Lystam and many others, when bringing them up on stage.
New collaborations with top musicians Christer Lyssarides and Robert Ivansson resulted in the new album Salt Breeze with Kites.
Discography
Les Champs de Beton/Les Larmes Bleues – 45 rpm single, 1980
Bon Temps, with "Sneaky Pete's" – LP, 1990
All That Blues from Sweden vol 1 – CD, 1993
Fat City Blues (Live At Kaos) – CD, 1994
All That Blues from Sweden vol 2, (with Fat City Blues) – CD, 1998
Laying My Monkey Down, with "Fat City Blues" – CD, 1999
Allen Finney and EBB, with Eric's Blues Band – Spotify/CD, 2006
Allen Finney Solo – CD, 2012
Fogetto, with "Allen Finney Combo" – CD, 2013
new! Salt Breeze with Kites – digital services/CD, 2018
Download Short bio Allen Finney
Read more about Allen in a great article from the blues magazine Blues.GR