Singer, guitarist, song writer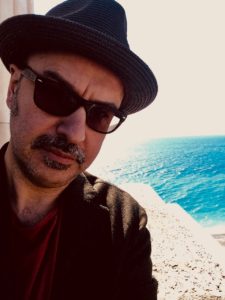 Singer and guitar player Ulysses is a veteran on the blues and folk scene of Stockholm. Born in Sweden to a Cypriot father and a Swedish mother he started playing mandolin and violin at an early age. He turned to guitar in the late seventies and taught himself to play through listening to blues and rock music. 
In the 90's he teamed up with blues troubadour Eric Bibb with whom he's toured and recorded on and off ever since. Ulysses is a founder and former member of the groups Tiny Island and Yonder where he explored Swedish and American blues and folk music. In 2008 he co-founded OK Star Orchestra, a group that would turn into a collective of Swedish, African and Latin American musicians mixing up West African and Carribean music.
Through the years Ulysses has worked as a session player on numerous albums and has appeared as sideman on Swedish national radio and TV on several occasions. Currently he has been focusing on recording and performing original material as a front man. "It's been a long time coming", he says. "But now seemed like a good time to stop and look back. Words started to appear and the material for my debut EP came to me very quickly, over the course of a few summer months. I gathered some of my favourite musicians and together we tried to put our own twist on all our influences without overthinking it too much."
Selected discography
Eric Bibb & Needed Time: "Spirit & the Blues", 1994
Eric Bibb & Needed Time: "Good stuff", 1996
Eric Bibb "Just like love", 2000
Yonder "Yonder", 2007
Yonder "Foreign Shore", 2010
OK Star Orchestra "Cobra Sessions", 2009
OK Star Orchestra "Sound Classique", 2010
Mona Johansson "Walk", 2017
Allen Finney "Salt Breeze with Kites", 2018