Album release 20 February 2020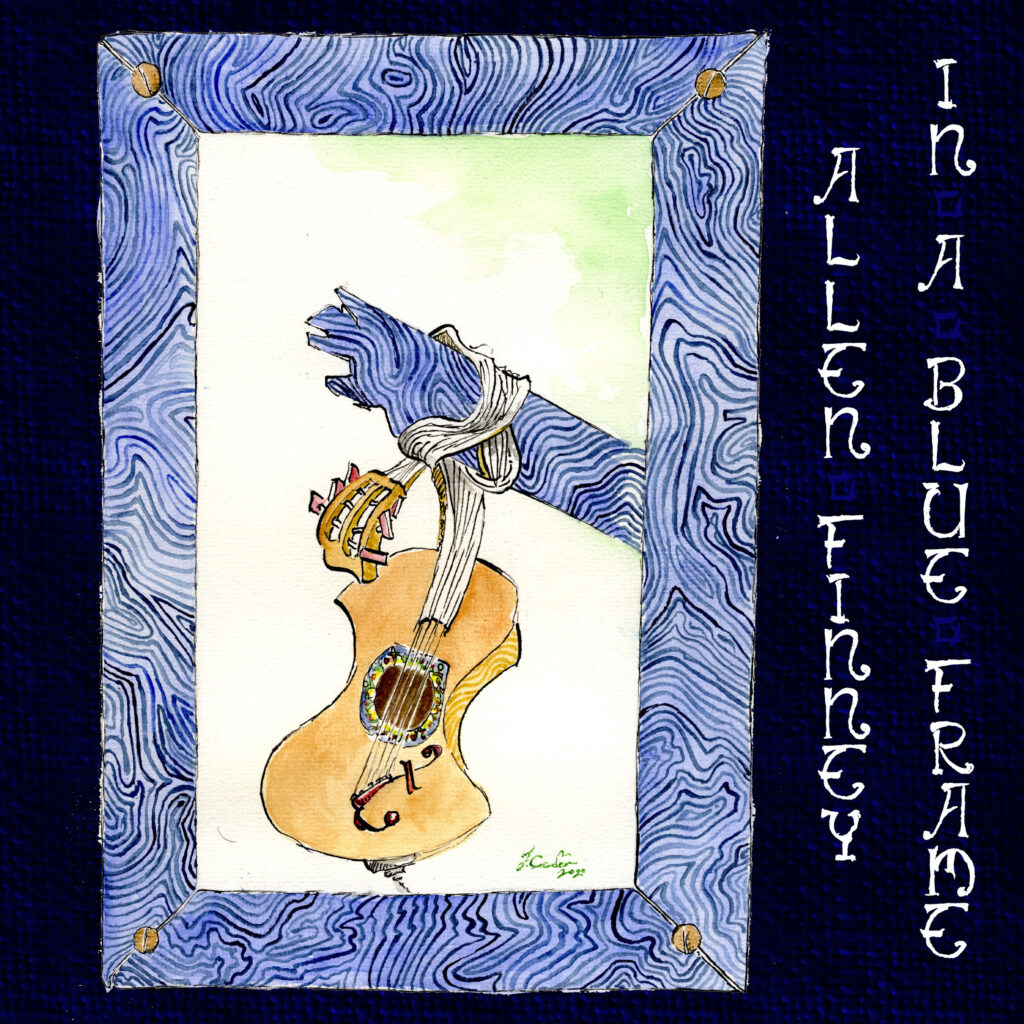 "On June 4, 1964, I bought a Gibson J-45 acoustic guitar in Flint, Michigan. It's still my main guitar. We've been through a lot together. Concert hall stages, TV shows, biker bars and shopping malls. She had to have major reconstructive surgery after a car wreck in Louisiana and I nearly watched her burn, literally, in Hollywood. ("The Scars On My Guitar", Allen Finney Combo-Fogetto, 2013). And I have a few scars of my own ("Take The Change" Allen Finney, In a Blue Frame, 2020)."

"We all have indelible moments in our lives. One of my biggest was that first E chord with Miss Gibson at that music store in Flint. And me and Miss G still get it on every day. How about that?"
Al, 2020
Once again we are proud to present a new album, In a Blue Frame, by the American musician and song writer, Allen Finney. The album contains a selection from his huge song book, 11 roots/americana originals never released before. And just as the previous quality album, Salt Breeze with Kites, it's produced by the Swedish top musician and producer Robert Ivansson.
Along with Allen Finney on vocals, harmonica and guitar, a group of excellent musicians contribute to the sound:
– Felicia Nilsen, Sweden, lead vocals on "My Old Shoes"
– Hanna Francis, USA, lead vocals on "Take the Change"
– Jana Persson, Britta Bergström and Robert Ivansson, backing vocals
– Christer Lyssarides, Max Schultz, Sebastian Nylund, guitars
– Johan Nylund, steel guitar
– Ted Hector, piano, organ
– Mats Qwarfordt, harmonica, jaw harp
– Mikael Augustsson, accordion
– Robert Ivansson, electric and double bass
– Björn Gideonsson, drums, percussion
– Per Sjöberg, bass tuba.
All songs written by Allen Finney
Produced and arranged by Robert Ivansson
Recorded and mixed by Robert Wellerfors at Boo Studio
Illustrations by Joakim Ceder
Record label MoJo Music, Stockholm
Said about In a Blue Frame:
"Allen Finney take a step down into some great roots music, a mix of blues, folk and a bit of country & roots music. With a blend of artists, his unique vocal expression, harmonica and guitar tunes Allen recorded eleven original great songs. Allen Finney has another excellent record to promote. Who brings this blues troubadour to our club and festival stages…" (Phil Verheage, Keys and chords, CD review blog). Read the article in Flemish!
… Allen Finneys röst är som klippt och skuren för den här typen av lågmält svängig musik. Skivan innehåller inte en enda dålig låt och lyckas övertrumfa förra plattan. Vilket är en stor bedrift. … (Daniel Gustafsson, Lira musikmagasin) Read article (Swedish) här!
Download detailed album info here