Singer, song writer, guitarist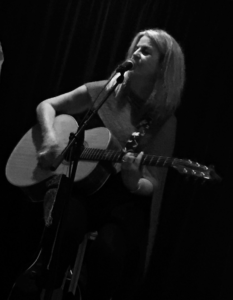 Mona Johansson is a soul and blues singer at heart. The lyrics are as important to her as the music. With a mix of old blues songs, soul classics and her own songs, she sings with a voice reminiscent of 1930's blues divas. She plays the guitar with an intense groove and her performances are expressive.
Mona Johansson comes from a musical family and was exposed to traditional music from an early age. As a child she took trumpet lessons before concentrating on her voice and guitar. Absorbing all kinds of music she soon gravitated towards american roots music.
Rhythm and dynamics is important ingredients in her musical expression as well as the naked ballads where Mona's song is in the center.
Since 2014 Mona has been working with the talented guitarist and singer Christer Lyssarides and together they have found their own way of expressing American roots and blues which can be listened to in the album from 2017, Walk.
Follow Mona Johansson

Said about…
"I loved Mona Johansson's new album "Walk"!  Mona's vulnerable, yet soulful voice, paired with Chris Lyssarides mood-setting and laid-back guitar playing smokes of down-and-out desperation. The album is well produced and has the feel of a close-up performance in a smoky blues club." – Hans Adamson, Art Vista Productions, Los Angeles
"Her songs are very filmic so to speak… to me they sound like an audio version of these Scandinavian noir detective programs that we' ve seen a lot on tv, all very moody" – Jason Elliot, The Blues and Soul Show, airplay radio UK, CAN, AUS.
"We received "Chased by Shadows" only one day before completion of the movie. The director loved the song and wanted to use it in the end titles. The whole sound and music team worked around the clock to fit it in with the existing music, but there just wasn't time to do a re-write of the existing score, which would have been necessary to transition to the song in a natural way. We were all disappointed."– Amanda Seward, Executive Producer, Beyond Deceit (a Hollywood feature film, starring Josh Duhamel, Anthony Hopkins and Al Pacino).
Discography
Bitter and Sweet – CD, 2012
Chased by Shadows – digital single, 2015
Walk – digital album, 2017
Selection festivals

Suwalki Blues Festival, Poland
Ochota Blues Festival, Poland
Åmål Blues Fest, Sweden
Listening
See videos here!