Mona with friends
Mona Johansson is grounded in the blues but moves into the wider genre Americana. Rhythm and dynamics is important ingredients in her musical expression as well as the naked ballads where Mona's song is in the center. Her shows include a mix of traditional blues ballads, soul classics and original songs. She has worked with a number of great musicians in her shows. Here are some of them presented.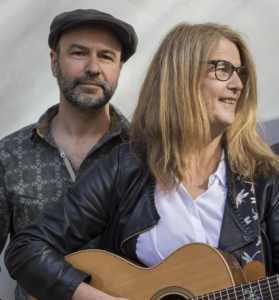 Christer Lyssarides is a brilliant instrumentalist who, with his delicate suggestive guitar playing, accompanies and supports the expression and the musical core of everything he deals with. Christer, founder, and former member of groups like Tiny Island and Yonder, has been touring and participating in recordings with a number of artists such as Eric Bibb, Cyndee Peters, Robert Hill and Johan Rothstein. Mona's collaboration with Christer has been described as suggestive and dynamic and together they have found a very own way of expressing American roots and blues. Christer is also co-producer of Mona's new album Walk.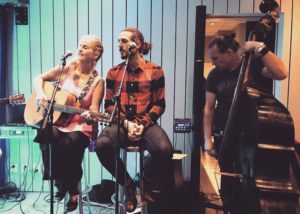 Robert Ivansson, double bass, is a brilliant musician with a long track record of collaboration with artists like Clas Yngström, Magnus Uggla, Max Schultz and many more. Robert and Mona's cooperation is new and exciting.
Together with her son Viktor Johansson, singer, guitarist and songwriter, Mona has concerts where they present their own songs. Their voices harmonize well and the collaboration has inspired the two to continue working on their own songwriting.
Martin Sörbom is a guitarist with a lot of energy and expression. The guitar playing is strongly inspired by flamenco and Irish music. Martin has had a close and successful collaboration with the great musician and song writer Jon Ben Burger for many years. Mona's collaboration with Martin is new and has been highly appreciated by the audience.
Björn Gideonsson, drums, has often reinforced Mona when playing with full band. Björn is one of the best and most experienced blues drummers in Stockholm. He is also playing on Mona's new album Walk.
Ralph Youngblood, also an excellent bass player, has both reinforced Mona's band at concerts and, above all, contributed to the new album Walk.
Allen Finney, a great musician and songwriter, with a long list of recordings and concerts, has written the song "Take a Little Walk" on Mona's Walk album. You can hear him make the background vocals of that song and play the harmonica on another 2 tracks on the album. Allen is also a frequent and welcomed guest in Mona's show.
For booking see Contact